500MVA transformer from SGB-SMIT POWER MATLA passes all tests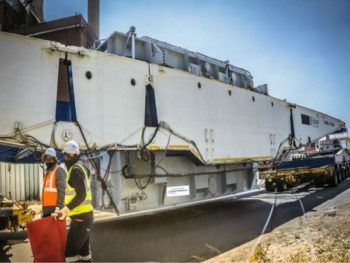 Misc
Posted by Patrick Haddad
SGB-SMIT POWER MATLA has successfully completed all tests on a 500MVA 400/132/22kV transformer. 
This is the second 500MVA 400kV unit manfactured by the company to successfully pass factory acceptance tests in 2020 and will be utilised by South African utility Eskom.
The Pretoria plant currently has three additional similar units in production, all which are destined for South Africa's national utility to support and augment the power grid.
Last week, Eskom advised that unplanned breakdowns stood at 8,750MW of capacity, adding to the 4,500MW that was out on planned maintenance.
The SGB-SMIT POWER MATLA Pretoria plant is home to a fully equipped laboratory, with the testing and analysis capability for various materials (including transformer oil), which complements the project and service department, in addition to also supporting external companies for lab services.
Source: ESI Africa
Image courtesy of SGM-SMIT POWER MATLA
Comments