Zest WEG develops 'E-house' substation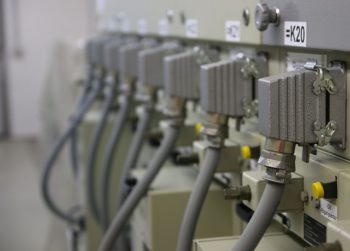 Substations
Posted by Patrick Haddad
Zest WEG has developed and supplied a complete low-voltage substation to Sasol's Prillan plant in Sasolburg.
The E-house contains four 1,6 MVA oil-type distribution transformers produced at the company's transformer manufacturing facility in Wadeville.
According to Lukas Barnard, oil and gas specialist in Zest WEG's business development team, the custom-designed solution includes a double-storey E-house, transformers, variable speed drive (VSD) panels and distribution boards,
"The outside wall is manufactured using 306 stainless steel sheets to deal with the highly corrosive environment," Barnard says. "The E-house is designed with a secondary pitch roof and will have a two-hour fire rating on the structural integrity of the building. It is equipped with a complete heating, ventilation and air conditioning (HVAC) system."
"After all the equipment is installed in the E-house, full functional testing will be carried out at Zest WEG's Heidelberg facility," Barnard says. "The building was designed to split into four sections for transport purposes. These four sections, with all the installed equipment, will weigh close to 160 tonnes, and will be rigged into place on site with a 500 tonne mobile crane."
Barnard says that Zest WEG worked in close collaboration with Proconics on the project.
"Proconics is applying its expertise in electrical engineering, design and site installation, as well as electric and instrumentation interfacing and civil engineering works," he says. "This is particularly important as the project involves a live changeover between the old and new substation; the substation also interfaces with an ongoing process."
Source: Engineering News
Photo (for illustrative purposes): Medium voltage switchgear / stuttgartnetze / Pixabay / Free for commercial use
Comments