Expert webinar: Groundbreaking new method for detecting transformer air leaks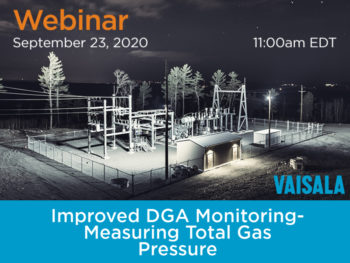 Companies
Posted by Staff
Be prepared for groundbreaking news on new air leak detection methods in our upcoming webinar!
With the increase of sealed transformer designs, ambient air leaks and the presence of oxygen have become a significant risk to your assets solid insulation.
On September 23, Vaisala Senior Industry Expert, Senja Leivo, will discuss traditional methods of monitoring/sampling, their shortcomings and how ambient air ingress can be detected in a wholly new, unique way to help extend your transformers lifetime.
Key Topics
– Effect of oxygen in transformer insulation
– Source of oxygen and traditional method to measure it
– A new method to detect air leaks in transformers
– Several case examples
Comments