INESC TEC creates "digital twin" of power transformer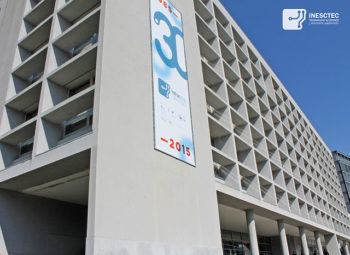 Tech
Posted by Patrick Haddad
Portugal's Institute for Systems and Computer Engineering, Technology and Science (INESC TEC) has created the first "digital twin" of a power transformer as part of the "Transformer 4.0" initiative.
INESC TEC is one of the partners of the 'Transformer 4.0 – Digital Revolution of Power Transformers', focusing on the development of a groundbreaking digital platform at national level, based on the concept of "digital twin"; the initiative focuses on the digital transformation of a power transformer's lifecycle.
The Transformer 4.0 project seeks to impact upon the digital transformation of the lifecycle of power transformers: from preliminary design to product update, through operation and maintenance actions.
"Since it is a virtual and complete model of the physical system, the digital twin of the power transformer will enable innovative management and development models in the engineering, manufacturing and role of power transformers", explained António Lucas Soares, coordinator INESC TEC's Centre for Enterprise Systems Engineering (CESE).
The platform explored within the scope of the project relies on the concept of digital twin, and it will introduce a set of tools based on operational research techniques, artificial intelligence and information management, thus enabling the acquisition and management of new knowledge about the lifecycle of power transformers.
"A more precise lifecycle management, through the smart monitoring of the service condition, preventive maintenance and evaluation of the equipment's aging, will not only contribute to significantly improve the engineering processes of transformers, but also to reach new business models ", added the lecturer at the Faculty of Engineering of the University of Porto (FEUP). The project will also explore the digital production (3D printing) of some of the components of the power transformers.
"At a broader level, the research results of this project will hopefully facilitate and promote the central management of the product's lifecycle and the creation of new business models based on the digital twin concept", concluded António Lucas Soares.
Source: INESC TEC
Photo (for ilustrative purposes): INESC TEC building / INESC TEC / Wikimedia / CC BY-SA 4.0
Comments