Zest WEG in Zimbabwe ethanol expansion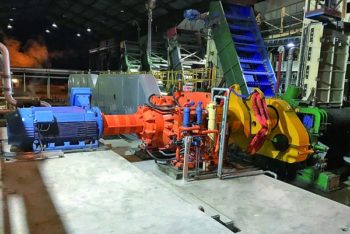 Misc
Posted by Patrick Haddad
Zest WEG has signed an agreement to supply a TGM planetary gearbox with a WEG variable speed drive (VSD) and a WEG medium voltage motor for a mill expansion by Green Fuel, Zimbabwe's leading producer of renewable fuel.
According to Leandro Magro, steam turbines manager at Zest WEG, the equipment is destined for the new sugar cane crushing mill #6 at Green Fuel's state-of-the-art ethanol facility at Chisumbanje in south-eastern Zimbabwe. The plant uses the latest technology to produce high-grade anhydrous ethanol, with a high-pressure boiler and a TGM steam turbine generator set increasing energy recovery. This allows the plant to be self-sufficient in its energy needs, and to generate excess electricity.
Green Fuel's ethanol project – awarded National Project status by Zimbabwe's government for its economic contribution – reduces the country's reliance on imported petroleum products. It also produces less greenhouse gas emissions than unleaded petrol, and can be sold significantly cheaper. The company employs over 3,000 people in its agricultural and industrial operations.
"The engineered gearbox for this project is custom-built by TGM in Brazil, a WEG Group company, and is supplied with a WEG VSD and WEG electric motor as a package," says Magro. "The components in this solution are designed to deliver the specific torque required to crush the cane to the customer's specifications – reliably and efficiently."
Source and image courtesy of: Zest WEG
Comments