Tianwei Baobian assembles first converter transformer for Qingnan UHV station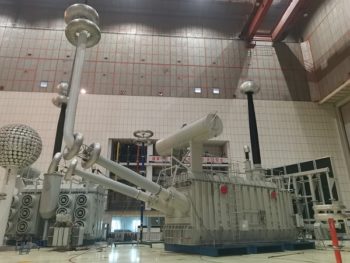 Misc
Posted by Patrick Haddad
The technical team of Tianwei Baobian (Qinhuangdao) Transformer Co. has completed the assembly of the first high-end converter transformer for the Qingnan UHV converter station
The converter, the first one among the high-end converters of Qingnan UHV transfer station, is a key component of the DC power transmission project, and together with the converter valve, it forms the "heart" of the transfer station. its main function is to transfer 750 kV of power to the power station.
The AC current converter is transformed into ±800 kV DC power to achieve long-distance, large-scale, high-efficiency and low-loss transmission of clean energy.
As the sending end converter station of the Qing-Yu DC project, a total of 28 sets of converter transformers are provided by Bao Chang Electric, among which, 6 sets of high-end converter transformers of ±800kV will be assembled and tested at the overhaul test base.
The large transformer was transported over 3 days using special transport vehicles, namely a bridged transport truck coming in with a total length of 98.5 meters, a width of 5.2, a height of 5 meters, and a total of 276 wheels.
Source and image courtesy of: BTW
Comments