Trafo replaces dry-type reactor for major bank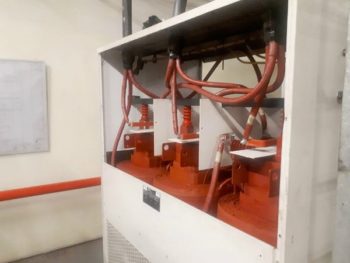 Misc
Posted by Patrick Haddad
Trafo Power Solutions has helped to replace a faulty dry-type reactor in a major South African bank.
The transformer supply company supplied and assisted with the installation of a replacement reactor, providing a fit-for-purpose design that accommodated the limited space and awkward position in which the components had to fit.
"The reactor – or inductor – is a key part of the bank's backup system that feeds a number of buildings in the central business district of Johannesburg," says Aaron Rost, contracts and proposals engineer at Trafo Power Solutions. "This vital component serves as a link between the utility power, the backup generator and the buildings' supply."
Rost explains that the reactor is important for a number of reasons. Among the most important are reducing the bank's electricity costs, raising the system's efficiency and contributing to the stability of the municipal power grid.
With its vast data centres, the bank must constantly idle its standby generators online, so that the switchover between utility power and standby power is seamless in the event of a power failure. He notes that to make better use of the fuel consumed by this continuous operation, diesel generators can be repurposed to help alleviate the data centre's reactive power requirements.
"While active power refers to that element of the power supply that actually does the work – such as driving motors or powering lights – the reactive power is essentially useless power that is being wasted," he says. "This reactive power effectively draws more current from a grid than what is really required."
Source: ESI Africa
Image courtesy of Trafo Power Solutions / ESI Africa
Comments