NLMK supplies electrical steel for Krasnoyarsk HPP transformers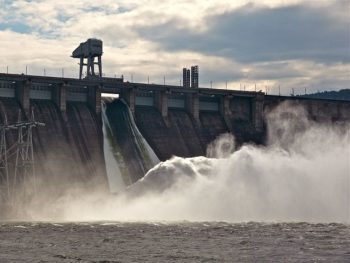 Misc
Posted by Patrick Haddad
NLMK Group has delivered premium laser-treated electrical transformer steel to SVEL Group, a leading Russian manufacturer of electrotechnical equipment, for use in the Krasnoyarsk Hydro Power Plant.
NLMK steel was used to make a 630 MVA three-phase potential transformer for the Krasnoyarsk Hydro Power Plant. NLMK intends to supply almost 2,000 tonnes of steel to SVEL by 2024 for the production of six more transformers. It is expected that the properties of their steel will enable a reduction in specific magnetic losses in transformers of up to 15% compared to commercial grades.
Built in 1972, Russia's second-largest hydro power plant, the Krasnoyarsk HPP, is located on the Yenisei River near Divnogorsk. It supplies power to the Krasnoyarsk Aluminium Smelter. Currently, the hydroelectric power plant is undergoing a comprehensive upgrade to install superpower transformers.
SVEL Group a leading Russian manufacturer of electric power equipment used throughout the entire energy value chain: from power generation to consumption. SVEL Group companies specialize in the production of various types of transformers, current-limiting reactors, switchgear and control gear. SVEL Group and NLMK have been cooperating for more than 15 years.
Source: NLMK
Photo (for illustrative purposes): Krasnoyarsk Dam / Alex Polezhaev / Wikimedia / CC BY 2.0
Comments