Hitachi ABB fast-tracks new 220 kV Dublin substation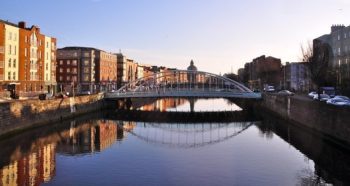 Substations
Posted by Patrick Haddad
Hitachi ABB Power Grids has delivered a fully integrated, high-voltage substation close to Dublin's digital business hub at Castlebagot, fast-tracking the standard two and a half year execution time to just 18 months.
The project was commissioned by Ireland's state-owned Electricity Supply Board (ESB) to meet Dublin's recent, unprecedented upsurge in demand for electricity, due to the proliferation of new data centers. The project is the largest privately contracted substation development in Ireland to date.
To ensure reliable supply to this booming industry, Hitachi ABB Power Grids has delivered a 220 kilovolt (kV)/110 kV substation with gas-insulated switchgear, including the protection and control SCADA system enabling an advanced power system management and monitoring of equipment status while in service. The gas insulated switchgear is a compact technology designed to minimize the substation's foot-print, enabling space saving of up to 70 percent compared to air-insulated switchgear.
Dublin hosts some of the most important high-tech firms in Europe, in addition to a wide range of thriving tech start-up and colocation services. Planners are currently processing applications for additional, major data centers that will more than double the city's electricity consumption in the years ahead. With its state-of-the art efficient grid solutions, Hitachi ABB Power Grids is helping to optimize power consumption while maintaining quality of supply.
"We specialize in the prompt delivery of reliable, high-voltage grid connections that respond to the ever growing use of advanced solutions continuing to support people through the challenging times of the current global pandemic.Efficient connections to electrical infrastructure are more critical than ever," says Niklas Persson, Managing Director of Grid Integration business unit at Hitachi ABB Power Grids.
"We are proud to enable the transition to the new norm of connecting people, when disruption to working patterns has increased the demand for remote and digital services, by meeting the need for a stable power supply."
Source: Hitachi ABB
Photo (for illustrative purposes): Dublin bridge / Claire Tardy / Pixabay / free for commercial use
Comments