Collett transport 68 Tonne transformer from Slovenia to U.K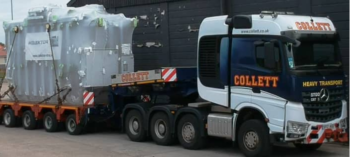 Misc
Posted by Patrick Haddad
British logistics firm Collett have completed the delivery of a 68 Tonne electrical transformer.
The firm, appointed by Kolektor, transported the 6.98m L x 2.4m W x 3.82m H transformer from the manufacturing facility in Slovenia to it's final installation in Tilbury, Essex.
Originating in Ljubljana, Slovenia, Collett were contracted to deliver the 68 Tonne electrical transformer to its required substation delivery site in Tilbury alongside multiple trailer loads of ancillary equipment required for the project.
The Collett Heavy Lift Team loaded the electrical transformer at its point of manufacture in Ljubljana, before transporting to the UK via the Port of Vlaardingen.
After arriving in the UK, each of the cargoes, the 68 Tonne transformer and various ancillary units were transported to the dedicated Goole Heavy Lift Terminal for storage and handling ahead of onward shipment to their final destination.
Once delivered to Tilbury in line with the required construction schedule, the Heavy Lift Team utilised specialist hydraulic jacking and skidding equipment to precisely manoeuvre the 68 Tonne transformer in to its required position.
With installation of the main unit completed, the team from Collett then utilised a 55te mobile crane, supplied under a CPA Contract Lift basis, to offload and install the remaining ancillary items.
Over a 6 week period, Collett's European Department, Project's, Engineering and Heavy Lift Teams worked in conjunction to deliver the project. Ensuring each stage from origination in Slovenia to final delivery in Tilbury was expertly managed and each of the required cargoes were successfully installed in line with the client's requirements.
Source and Image courtesy of: Collett
Comments