Efacec launches new modular system concept for power transformers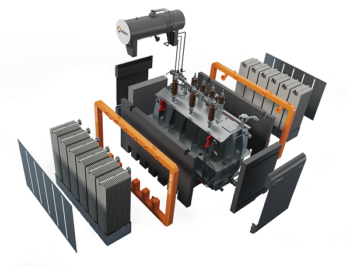 Tech
Posted by Patrick Haddad
Efacec has launched a new modular system concept for their Core Power Transformers, which will allow for greater optimization and efficiency.
The modularity concept will be applied to different Efacec products and takes the first step in the segment of transformers.
The modular system will be applied in the Transformers portfolio in equipment from 10MVA to 170MVA and up to 400kV and includes a range of innovative solutions in the architecture and assembly of external components, adding new functions, such as mechanical protection, noise, ultraviolet and ballistics.
The delivery of the first transformers developed based on this modular concept begins in 2021, and the first modular transformer is expected to start operating in March 2021. Among the recipients of this product are utilities, industry and renewables.
The new concept will be applied to Efacec's Core Power Transformers. It is estimated that in 2022 about 55% of the Core Transformers produced by Efacec will have incorporated this innovation and in 2023 all transformers of this type will be produced following this concept.
Ângelo Ramalho, CEO and Chairman of the Board of Directors of Efacec says: "This is an important step for the company. Efacec has been a global reference in the field of transformers for over 70 years. Along this path, we launched new products and technologies that have become benchmarks in the market, but we have also gone further, investing in increasing the power of products and designing customized solutions. "
"The Modular System is heir to this legacy. It allows our products to present a more appealing design, incorporate digital connectivity and combine high performance and quality with energy efficiency and decarbonization. It is a new concept that responds to the needs of the market and our customers and is distinguished from the remaining offers on the market".
Efacec expects a substantial growth in the Transformers business unit in the following three years, compared to 2020, leveraged by the energy transition, market growth and by overcoming obstacles resulting from the pandemic crisis. In this context of growth, the Modular System is expected to make a significant contribution to increase market share. This business area currently represents 30% of Efacec's overall business.
Source and photo : Efacec
Comments