Transformer fire averted at Nagarjuna Sagar Hydel Power Plant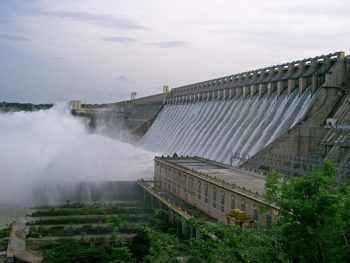 Misc
Posted by Patrick Haddad
A fire at the Nagarjuna Sagar Hydel Power Plant in Telangana, India was brought under control before it could damage a transformer being repaired.
A supply wire of a transformer in the fourth turbine caught fire, but alert staff swung into action and brought the fire under control, averting a major accident. After the incident, TSGENCO Director (Hydel) Ch Venkata Rajam inspected the plant and enquired about the incident.
According to Rajam, a tarpaulin and supply wire of a transformer caught fire when engineers of a private firm were conducting repairs at the fourth turbine. The tarpaulin was used to confine the heat produced while taking up heating work for moisture absorption. The tarpaulin and the supply wire subsequently caught fire, which fortunately did not spread to the transformer.
Rajam said the eighth turbine would be made operational by February after completing the repairs, adding that the works were delayed as there was a problem in finding experts who could work in deep waters.
Describing the NSP incident as minor, he said it should not be compared with that of the hydel plant in Srisailam last year. "The Srisailam fire accident affected power generation. But here, we are trying to overcome it by generating additional power by utilising the water released from the Nagarjuna Sagar Project," he said, adding that demand for power would be high during the Yasangi season.
Source: Telangana Today
Photo (for illustrative purposes): Nagarjuna Sagar Dam / Sumanthk / Wikimedia / Public Domain
Comments