Siemens Energy launches innovation centre in Shenzen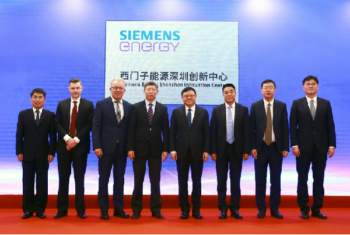 Misc
Posted by Patrick Haddad
Siemens Energy has launched an innovation centre for advanced energy technologies in Shenzhen, adding to the company's growing global innovation network.
The innovation centre will focus on R&D of core technologies and development of innovation-based clean energy business.
"Managing the energy transition can only be successful if we form global partnerships, modernize conventional technologies in a way that they are an effective interim solution and develop even more innovative green technologies," said Christian Bruch, CEO of Siemens Energy AG.
"The new innovation centre in Shenzhen will combine all elements. It's another lighthouse for the EU-China 'Green Partnership' and 'Digital Partnership'. This will bring us closer to the most dynamic energy market and, together with Chinese partners, create technologies and innovations that have an industrial and social impact."
"A reliable, efficient and low-carbon energy supply system is key to building up Shenzhen as the new frontier of high-quality development and the Greater Bay Area a world-class city cluster," added Vinod Philip, Chief Technology and Strategy Officer at Siemens Energy. "Together with our partners, we will turn our innovative ideas into reality faster, making real-term contributions to China's ambition of carbon neutrality by 2060."
Source and image courtesy of: Siemens Energy
Comments