Baobian Electric completes transformers for Pakistan power plant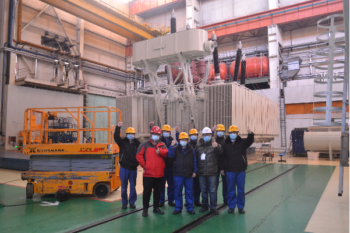 Misc
Posted by Patrick Haddad
Baobian Electric has successfully completed production on four 220kV main transformers for the 900MW Bin Qasim combined cycle power plant project in Pakistan.
       The project uses two 4000F single-shaft gas-steam combined cycle units. A total of four main transformers are matched with the two units. They are two 600MVA/220kV and two 250MVA/220kV main transformers respectively. 
This batch of transformers adopts a brand-new structure for the first time, which has significant advantages such as reasonable structure, small partial discharge, low loss, and low noise.
 The first two products were shipped to Pakistan by sea in December 2020.
       The Bin Qasim plant is operated by Pakistan's K-Electric (KE) Company, which was established in 1913. It is the largest integrated power company in Pakistan with a century of development history.
K-Electric provides electricity to approximately 25 million people in Karachi and surrounding areas. The Bin Qasim 900MW combined cycle power station project was EPC contracted by Harbin Electric International Engineering Co., Ltd. (Kou Yinglun).
Source and photo: Baobian Electric
Comments