Xidian Changbian successfully complete production of 220kV super large transformer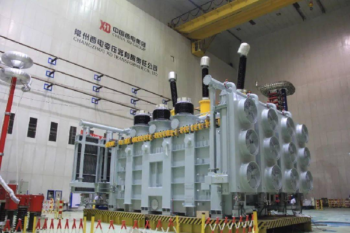 Misc
Posted by Patrick Haddad
XD Changbian has completed the 220 kV super-large transformer for the Xinhui Shuangshui 600 MW cogeneration project.
The main transformer is crucial for the project and requires a very high level of reliability. In recent years, under the leadership of the XD Transformer Business Unit, XD Changbian has overcome technical problems such as the magnetic leakage control of giant transformers, the three-phase high current lead structure, the giant core structure, and the internal cooling oil circuit structure.
In recent years, Xidian Changbian has focused on putting independent innovation at the front of enterprise development, and by strengthening innovation and research work in all aspects of technology and production, it has driven the transformation and upgrading of enterprises with high-quality development.
The firm put out a number of transformers during 2020, including the "Qinghai-Henan" ±800 kV UHV DC project Zhumadian converter transformer, the "Yazhong-Jiangxi" ±800 kV UHV DC transmission project Yazhong station converter transformer, and the Anhui Wuhu (Wannan) 1000 kV expansion project.
Source and image: Sohu
Comments