SGB Regensburg delivers first 354 kV transformer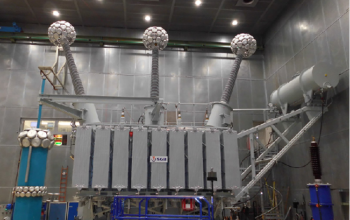 Misc
Posted by Patrick Haddad
SGB Regensburg has supplied the highest-voltage transformer in its company history (354 kV / 115 MVA) to a large US wind farm.
In January 2021, this power transformer successfully passed all final tests and is being prepared for acceptance by the client and for transport to its installation site in the USA.
"This test marks the convincing completion of a challenging project," says Franz Schatzl, Technical Director Power Transformers at SGB. "The fact that we have designed, engineered and built a true record-breaking transformer at such a difficult time for all companies and their employees, is proof of the efficiency and collegial commitment of our teams. All the employees involved in this power transformer gave their best as true team players across all departments. The result is a milestone that impressively represents the successful development of SGB Regensburg."
The transformer is installed near Albuquerque, in the desert highlands of New Mexico, USA. It is equipped for use approx. 2,400 meters above sea level and features an earthquake-resistant design for medium seismic zones. Since SGB Regensburg has many years of experience in the field of regenerative energy and has already built and supplied several transformers for wind and solar projects in the USA for this customer, it was possible to draw on the corresponding expertise in environmental influences.
Source and image: SGB SMIT
Comments