First transformer of China-Laos Railway shipped successfully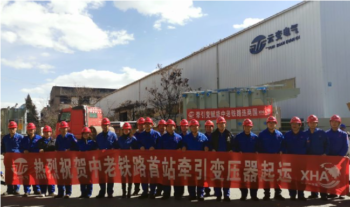 Misc
Posted by Patrick Haddad
Yunbian Electric has successfully manufactured and shipped the fist traction transformer for the China-Laos railway project.
The China-Laos Railway starts from Kunming, the capital of Yunnan Province in the north, and reaches Vientiane, the capital of Laos in the south. It consists of a domestic section and a Lao section.
It is hoped that the new line will play a very important role in promoting the rapid development of the regional economy and urban construction along the line and promoting the prosperity and development of the China – ASEAN Free Trade Area.
Yunbian Electric Company won the bid for all main transformers of the China-Laos railway project, including 48 traction transformers and five power transformers, for a total of 53 units.
Source and image: Yunnan Transformer Electric
Comments