Hitachi ABB to upgrade Geheyan Hydropower plant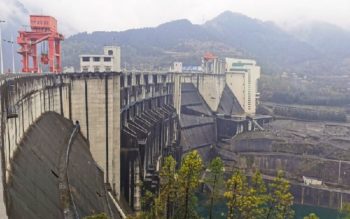 Misc
Posted by Patrick Haddad
Hitachi ABB Power Grids has been contracted to modernize the Geheyan hydropower plant in central China, including new transformer bushings and switchgear.
With an installed capacity of 1.2 gigawatts (GW), it is the backbone power plant for peak load shifting and frequency regulation in central China's power system.
To ensure the ageing power plant continues to operate smoothly, Hitachi ABB Power Grids will replace third party GIS, upgrade and install 550-kilovolt (kV), 220-kV GIS and high-voltage bushings for transformers. The equipment upgrade will greatly enhance the reliability of the power plant and minimize power losses.
"Our leading technology and services will help Hubei Qingjiang Hydropower Development Company upgrade its power plant, enabling online monitoring and reducing losses as well as decreasing fixed asset investment," said Thomas Westman, Head of  High Voltage Service, within Hitachi ABB Power Grids' High Voltage Products business unit.
"We will continue to work with customers to build a clean and efficient energy system through pioneering technologies and help China achieve its goal of carbon-neutrality."
Source and photo: Hitachi ABB Power Grids
Comments