Engie transport offshore substation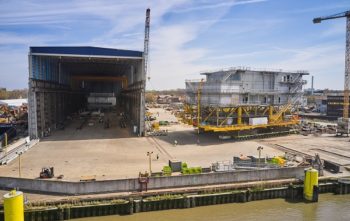 Substations
Posted by Patrick Haddad
Engie Solutions has begun transporting the off-shore substation built for the Saint Brieuc wind farm.
The substation was constructed by a joint venture formed by Iemants (a subsidiary of Smulders) and ENGIE Solutions.
The contract, awarded by Ailes Marines, an Iberdrola company, consisted of the engineering, construction, installation, connection and testing of the offshore substation. It was initially awarded back in September 2020.
The Saint Brieuc wind farm is the first large scale offshore wind farm in Brittany and one of the first in France to obtain all the necessary government permits for its construction and operation.
It covers a total area of 75 km², will have a total capacity of 496 MW and will produce 1,820 GWh annually, equivalent to the annual electricity consumption of 835,000 inhabitants.
Source and image: Engie Solutions
Comments