Chancellor Merkel and Prime Minister Solberg officially inaugurate NordLink by jointly pressing 'digital button'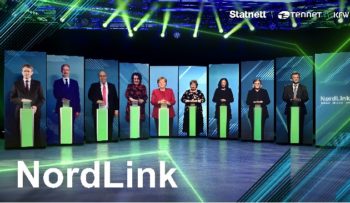 Misc
Posted by Patrick Haddad
German Chancellor Dr. Angela Merkel and Norway's Prime Minister Erna Solberg have officially commissioned NordLink by jointly pressing a 'digital button'. 
The 'green cable' will exchange German wind energy with Norwegian hydropower and connect two optimally complementary systems. The digital event was also attended by Germany's Federal Minister for Economic Affairs and Energy, Peter Altmaier, Schleswig-Holstein's Minister President Daniel Günther and its Energy Minister Jan Philipp Albrecht, as well as Norway's Energy Minister Tina Bru.
The event, which for coronavirus reasons was held virtually, was hosted by top executives from the NordLink project partners: TenneT's CEO and COO Manon van Beek and Tim Meyerjürgens, Statnett's CEO Hilde Tonne as well as Markus Scheer, Management Board member of the KfW IPEX-Bank.  
Federal Chancellor Angela Merkel: "Today and with NordLink, Germany and Norway are moving even closer together. The first direct electricity bridge not only helps to stabilise energy prices in both countries. NordLink is a milestone for sustainable energy supply and climate protection in Europe. Because the focus is on exchanging renewable energy."
Norway's Prime Minister, Erna Solberg, said: NordLink will be of great benefit to both Germany and Norway. It will contribute to a more efficient use of power resources and lay the foundations for further investments in renewable production. It will also contribute to our joint efforts in lowering emissions. As Germany is phasing out coal power, NordLink will ease the transition from fossil to renewable power production. At the same time, it will provide access to energy when Norway needs it.
Manon van Beek said: "NordLink is an enormously important building block for the European energy transition in order to compensate for wind- and sunless periods and, at the same time, make green energy available safely and affordably in Europe. NordLink enables a climate-friendly electricity system, creates value in both countries, and is an important building block for achieving the climate targets. As a transmission system operator, TenneT is furthering the energy transition and grid expansion like no other in Europe, in order to transport renewable energies onshore and offshore, and integrate them into a modern energy system."
Peter Altmaier said: "Today we're celebrating the inauguration of NordLink, which is great. The German and Norwegian electricity markets are now directly connected, which is a win-win situation for both countries. And it's an equally important step for integrating and securing the supply of energy in Europe as well as for more climate protection and greater sustainability. Not only for us, but for many generations to come. In order for climate-friendly and, at the same time, cheap electricity from Norway to reach our major centres of consumption, we need further grid expansion within Germany. That's a challenge. But we're making progress, bit by bit. The opening of NordLink is a great success!"
Tim Meyerjürgens said: "We delivered the 'green cable' within the expectations set for time, budget and quality. NordLink required a huge team effort to realise it. An important focus for us remains the North Sea – the future powerhouse of Europe. We will provide connection capacities for at least 27 gigawatts there by 2030, 17 gigawatts of which will be in the German North Sea. This is how we'll continue to ensure security of supply in a world that is increasingly powered by renewable energies."
Hilde Tonne said: "Today we're celebrating a technical masterpiece and a great and successful project. This interconnector is an important step towards a fully electric and renewable society in both countries. Everyone who helped complete the project on the Norwegian and German sides deserves a round of applause. This is an important day on route to transforming Europe into a climate-neutral society."
Source and image: TenneT
Comments