Protests by Trafomec workers after silence from company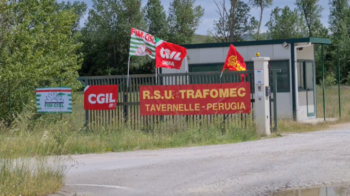 Companies
Posted by Patrick Haddad
Workers at Italian transformer manufacturer Trafomec have demonstrated in front of the company gates as a result of a breakdown in talks with the union.
Workers protested against what they called the "unjustifiable" absence of the company, which has been denying dialogue with the union for months.
"The workers, through the demonstration and the strike, had set themselves the goal of forcing the company to convene a round table to address the many unresolved issues that gag the production site and jeopardise its future. After a week, the scenario has not changed. The company is silent, a deafening silence," wrote the unions Fiom CGIL and Fim Cisl together with the company's Rsu.
"The workers are increasingly prey to the most dramatic impotence to change the status quo. The convocation by the Region, scheduled for Thursday 3, was welcomed in a positive way, as it will be able to open a discussion, which hopefully will remain open until the end of the dispute, in which to find convergence to push the local business to build a credible alternative to the current ownership." they continued.
"The workers will meet in assembly, Friday, June 4, 2021, to assess what has emerged from the meeting with the Region – conclude Fiom, Fim and Rsu – and to understand if and how the company will have made acts of openness on the comparison required union."
Source and image: Umbria Domani
Comments