184-tonne transformer delivered to National Grid substation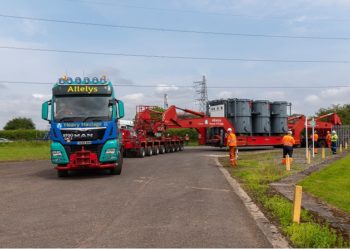 Substations
Posted by Patrick Haddad
A 184-tonne transformer has been delivered to a National Grid substation in Cambridgeshire.
An electricity transformer, the size of a bungalow, has been delivered from Ipswich Docks to a National Grid substation at Burwell in Cambridgeshire this weekend. 
The transformer, which is more than eight metres long, four metres tall and five metres wide, was delivered on a specialist vehicle. The vehicle travelled at approximately 12 miles per hour and had a police escort for the journey to make the process as smooth and safe as possible.
National Grid project manager, David Oglesby, said: "Millions of people rely on us to supply their electricity without interruption, day in, day out so it's important that we keep our substations and the equipment in them working efficiently. The delivery of this transformer to our Burwell site will ensure we are able to continue to deliver power reliably to the local area."
Rachel Sheridan, Highways England Project Manager, said: "It's not every day that you see a 184-tonne transformer being transported on the Highways England road network, but we've been working closely with the National Grid and police for the last few months to ensure this abnormal load is delivered to the substation in Cambridgeshire as safely and smoothly as possible. Throughout its journey we will look to keep disruption to drivers and people who live, work and are travelling in the area, to a minimum but recommend people plan ahead if they're looking to use a similar route."
Source and Image: National Grid
Comments