Baoding Tianwei produce 220kV shunt reactor for Turkmenistan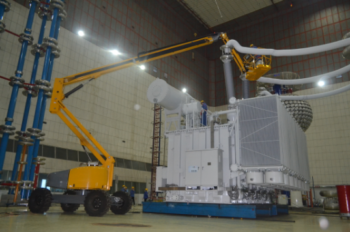 Misc
Posted by Patrick Haddad
The 220kV shunt reactor manufactured by Baoding Tianwei for Turkmenistan has passed all factory tests.
The 220kV three-phase adjustable shunt reactor of the Ministry of Energy of Turkmenistan, contracted by PV Electric, passed all the factory tests and type tests in one go, and the supervising experts from PV Supervision Company witnessed the whole process of on-site tests.
This product is a new type of high voltage shunt reactor equipment, which can adjust the compensation capacity of the shunt reactor in a wide range according to the load change of the long-distance high voltage line, compared with the common fixed capacity high voltage shunt reactor, it can meet the higher requirements of power users for transmission quality.
The main features of this new type of adjustable shunt reactor are: high voltage level, can be used for 220kV and above high voltage transmission lines; large range of adjustable capacity (the product has 33 levels of adjustment, the maximum capacity is 5 times the minimum capacity); capacity adjustment using common on-load tap-changer and tap winding.
Compared to existing shunt reactor technology solutions (magnetic valve type, high impedance transformer type controlled shunt reactor), this product has the advantages of low cost, no harmonics and high reliability and is being recognised by more and more power users.
Source and Image: Baoding Tianwei
Comments