Hitachi ABB launch two new traction transformers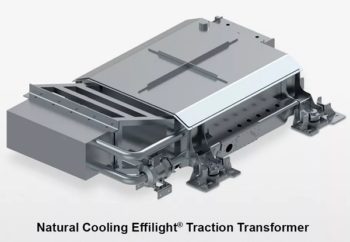 Tech
Posted by Patrick Haddad
Hitachi ABB Power Grids has introduced two new traction transformers, the RESIBLOC® CRail 25 kV and the Natural Cooling Effilight® Traction Transformer.
Natural Cooling Effilight® Traction Transformer (NCETT) replaces the traditional fan-based cooling system with natural and sustainable alternative – natural airflow of the train's motion.
The NCETT uses a specially designed cooling-system that utilizes the natural air flow caused by the train's motion and directs it to the heat exchangers, thereby eliminating the need for motorized air-fans.
The RESIBLOC ® Rail replaces mineral oil with dry insulation material, eliminating risk of oil leakage.
This transformer can perform at nearly maintenance-free operation levels and with up to 45% reduced winding losses at the same weight as traditional units.
With an efficiency of up to 99%, RESIBLOC ® Rail traction transformers can reduce operating energy costs and associated carbon emissions of trains by up to 10%. This is a decisive advantage for rail operators since energy cost accounts for up to 40% of the total cost in this industry.
"We are immensely pleased to bring these two solutions to our customers in the rail industry. Both the products have been designed on our existing proven & successful platforms i.e., RESIBLOC® for dry and Effilight® for liquid-filled traction transformers, said Stephane Schaal, Head of Global Traction and Distribution Transformer Product Groups, Hitachi ABB Power Grids, "these will bring new, additional value that will help our customers reduce operating costs and improve reliability".
Source and image: Hitachi ABB
Comments