Two 500kV water-cooled transformers delivered to Guangzhou project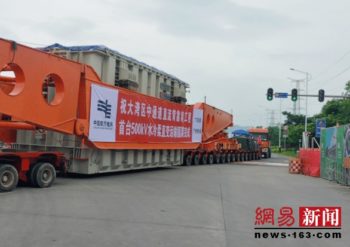 Misc
Posted by Patrick Haddad
The first batch of 500kV water-cooled flexible transformers have been transported into place at the Guangzhou City project.
The first two 500kV water-cooled flexible transformers of the world's largest water-cooled transformer project, the Guangzhou Bay Area Central Channel DC Back-to-Back Project, which was contracted by Tianwei Baofeng (Qinhuangdao) Transformer Co.
The project is located in Zengcheng Development Zone, Guangzhou City, and adopts 2×1500MW double-unit back-to-back flexible DC transmission technology. A new back-to-back DC converter station is also included with a new converter capacity of 3 million kilowatts, as well as the installation of 13 flexible DC transformers with a single unit capacity of 575,000 kVA (including one standby).
The project's flexible DC transformer, independently developed and designed by BPC Electric, is the first flexible DC transformer in the world to use internal water cooling and the first in the world to use 5G communication technology to upload signals from key components of the transformer.
The water-cooled flexible DC transformer is 12 metres long, 4 metres wide and 5.1 metres high, making it a "giant" of electrical equipment. The equipment arrived at the construction site from Print-Rite (Qinhuangdao) Transformer Co., Ltd. and travelled 2,948.1 kilometres by sea, river and road, making it a "super express" project supply.
Source and image: Baoding Tianwei
Comments