New 1000 kV transformer delivered to Nanchang-Changsha UHVAC project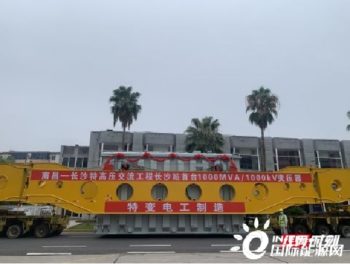 Misc
Posted by Patrick Haddad
The first 1000MVA/1000kV transformer of Changsha Station of Nanchang-Changsha UHV AC Project has been successfully shipped to the Changsha Station.
The 1000MVA (1 million kVA)/1000kV transformer, made for the Changsha Station, was developed by TBEA Hengyang Transformer Company Limited for the 1000kV Nanchang-Changsha EHV AC line project.
The 1000 kV Nanchang to Changsha ultra-high voltage AC line project is an important part of the Central China ultra-high voltage AC ring network. A new 1000 kV AC substation will be built in Nanchang and Changsha.
Hengyang Company has undertaken the development task of 7 ODFPS-1000000/1000 main transformers for Changsha Station of the 1000kV Nanchang to Changsha EHV AC line project, which is a tight project schedule and high standard.
At present, the second product of 1000kV transformer in Changsha station has entered the test stage, and five products have completed the assembly, and it is expected to complete the delivery of all products in September.
Source and image: Power In-En
Comments