Linxon to develop floating substation technology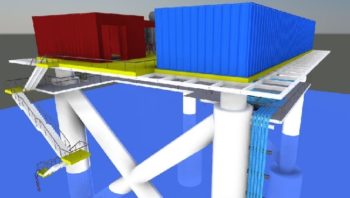 Substations
Posted by Patrick Haddad
Linxon and SNC-Lavalin's Atkins business have agreed to work together to develop commercial floating substations.
Linxon takes advantage of its parent company Hitachi ABB Power Grids' advanced knowledge in designing equipment for platform, combined with the proven know-how and vast domain expertise developed in complex technical solutions such as AC offshore wind projects by Linxon and Hitachi ABB Power Grids with the expertise of Atkins in naval design and floating platforms.
"The Linxon floating offshore substation platform solutions will comprise of product packages, specifically designed for offshore applications, including transformers, high-voltage switchgear and other equipment" said Alfredo Parres, Head of Renewables at Hitachi ABB Power Grids. "Hitachi ABB Power Grids is committed to support the development of the floating offshore wind market and supporting Linxon customers to deliver floating offshore wind projects."
"With Linxon, we use proven technologies to make this leap into floating renewable energy possible. Hitachi ABB Power Grids recently launched a portfolio of substation solutions and a new range of transformers for offshore floating applications, designed to overcome the challenging of the offshore environment and withstand the physically demanding conditions on floating structures", Parres continued.
"The Linxon and Hitachi ABB Power Grids floating substation concept can address the current market needs and be adapted for emerging applications," said Stefan Reisacher. "Having used proven solutions within our concept designs, we are ready to take the next step with our key customers."
Source and image: Linxon
Comments