New SF6-free switchgear for Austrian substation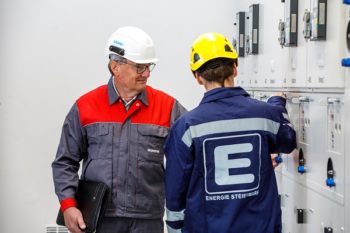 Substations
Posted by Patrick Haddad
Siemens has installed a new SF6-free switchgear at the Münichtal substation in Austria.
The Münichtal substation of Energie Steiermark Group in Austria now has a sustainable medium-voltage switchgear from Siemens. The power distribution system has been in operation since the end of 2020 and has just been officially handed over to the customer after a trial period. This is the first installation of fluorine-gas free switchgear from Siemens' climate-friendly blue portfolio at a customer site in Austria. 
The switchgear uses the climate-neutral Clean Air insulation medium, which consists exclusively of natural components of the ambient air. This new technological innovation from Siemens not only eliminates SF6 as an insulation medium but any gas mixture based on fluorine. As a result, the new switchgear reduces the carbon footprint of the grid operator's equipment installation.
"The sustainability of our infrastructure is key to the success of the energy transition," said Martin Graf, Member of the Board of Energie Steiermark. "In total, we're planning to invest more than 600 million euros in our grids in the coming years. This project is another step towards upgrading our central grid components in an environmentally friendly manner and in cooperation with a highly competent industry partner. One of the key challenges for us is to be able to properly feed in renewable energy from distributed generation units in all parts of the country. This requires regional, smart and sustainable solutions – just like in this project."
More than 80 percent of the electricity in Austria is generated from renewable energy sources. "In addition to the environmentally friendly generation of electric power, climate-friendly distribution is becoming increasingly important. For this reason, we are pleased to support our customer Energie Steiermark Group in decarbonizing its operations using our sustainable technologies. Switchgear is a key component for safe, reliable and efficient power distribution in all grid structures. That is why it plays an important role in the infrastructure of today and tomorrow," said Gerd Pollhammer, Head of Siemens Smart Infrastructure CEE.
Source and image: Siemens
Comments