Third massive transformer reaches Oststeinbek substation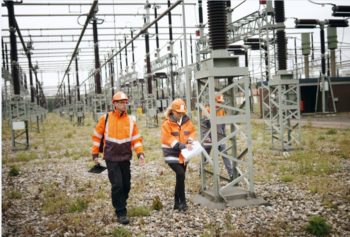 Substations
Posted by Patrick Haddad
The third of a total of four massive transformers has been delivered to the Oststeinbek in Stormarn, Schleswig-Holstein.
Each transformer weighs 280 tons and will be installed in the Oststeinbek substation in order to help optimise it to feed wind energy to Hamburg and the surrounding area.
The vehicle carrying the transformer weighed around 420 tons by itself and could only travel at night along a special route. The transport had already covered around 40 kilometers from the Elbe-Lübeck Canal in Lauenburg (Duchy of Lauenburg district) to Glinde (Stormarn district).
The special vehicle was driven via remote control while the driver walked alongside it. However, the heavy haulage could not drive the entire route at full speed, because in many places it was a matter of millimetres.
One more massive transformer remains to be delivered to the substation.
Source:: NDR
Photo (for illustrative purposes) courtesy of 50 Hertz
Comments