TBEA develops award-winning 800kV transformer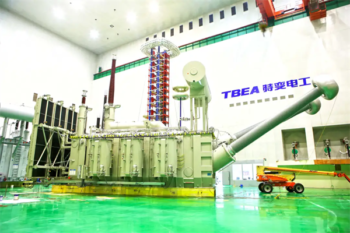 Misc
Posted by Patrick Haddad
TBEA has won a National Science and Technology Progress Award for its new ±800kV DC converter transformer
On November 3, the 2020 National Science and Technology Award Conference was held in Beijing. The project of "±800kV DC converter transformer independent development and engineering application", in which TBEA participated in the construction, was awarded the second prize of the 2020 National Science and Technology Progress Award. So far, the company has won 2 National Science and Technology Progress Grand Prizes, 4 First Prizes and 3 Second Prizes.
±800kV UHV DC transmission is the core technology to solve the problem of ultra-long-distance, the large-capacity transmission of electric energy in China, and the reverse distribution of energy and power loads. This technology is also needed to implement the strategy of "West-to-East Power Transmission".
However, the converter transformers of the early UHV DC projects were mainly designed by foreign countries and assembled in China using imported materials. As such this represents another step towards energy independence for the country.
Source and image: Shupeidian
Comments