New Gas Insulated Substation installed in Mumbai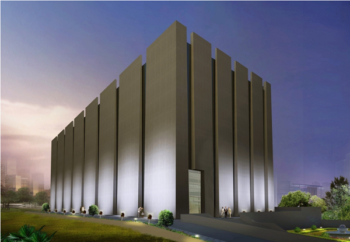 Substations
Posted by Patrick Haddad
CtrlS has announced the deployment of Asia's largest Gas Insulated Substation (GIS) at its data centre in Mumbai.
The substation is currently equipped with 300MW, although it can scale up to 700MW, and is backed by three different sources and diversified paths. This ensures 100% availability of power at all times, thus powering the two million square feet CtrlS Datacenter Campus spread across 10 Data Centers. The campus is currently under construction of which four rated-4 data centres are operational.
The GIS deployed by CtrlS is one of the first large scale deployments in Asia powered by 3 line configuration (N+N+1). It has three source substations backed by two or more substations.
Gopalakrishnan, MD, GBCI, Southeast Asia and the Middle East, said: "CtrlS deploying a 300 MW gas-insulated substation (GIS) is a path-breaking phenomenon in the industry. This is the first of its kind deployment of power infrastructure by any data centre company in the Asia Pacific region. What is more interesting is the fact that CtrlS has planned ahead by ensuring that the GIS can be scaled up to 700 MW.
"The deployment of 300 MW gas insulated substation scalable to 700 MW is our commitment to the industry as we continue to address the growing needs of hyperscalers, telcos, BFSI, healthcare, gaming, and new-age companies. We stay committed to adopting innovative approaches to serve the unmet needs of our customers," said, Sridhar Pinnnapureddy, Founder and CEO, CtrlS Datacenters.
With GIS technology, the clearance needed for phase to phase or phase to ground for all equipment is much less than that of an AIS or air-insulated substation. The total space required for a GIS is roughly 10% of that needed for a conventional AIS facility.
Source: Data Quest
Photo (for illustrative purposes): CtrlS Mumbai Data Center / CtrlS
Comments