New transformer for Berkswell substation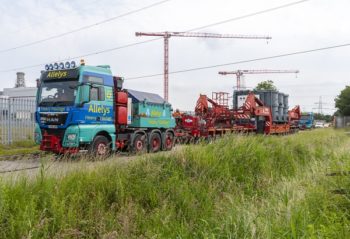 Misc
Posted by Patrick Haddad
A 155-tonne transformer has been scheduled for delivery to a National Grid substation at Berkswell, near Coventry this weekend.

The transformer is expected to leave Goole Docks on Sunday 6 March and should arrive at Berkswell electricity substation by mid-afternoon.

It will be delivered on a specialist vehicle that is more than 5 metres tall, 5 metres wide and 58 metres long and will travel at approximately 12 miles per hour.
Although there are no road closures, due to the size of the delivery vehicle carrying the transformer, it is necessary to change the orientation of the tractor to allow for the vehicle to travel down Cromwell Lane. National Grid has worked with specialist haulage contractors Allelys, and Coventry City Council, to minimise the disruption to road users and residents. The vehicle will also have a police escort to help manage traffic and make the process as smooth and safe as possible.
National Grid project manager, Graham Horrocks, said: "Millions of people rely on us to supply their electricity without interruption, day in, day out so it's important that we keep our substations and the equipment in them working efficiently. The delivery of this transformer to Berkswell Substation will ensure we are able to continue to deliver power reliably to the local area."
The transformer delivery is not connected HS2 work in the area and will not impact electricity supply in the area.
Source and image: National Grid
Comments