Ingeteam supplies inverters for two solar projects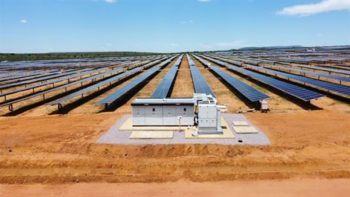 Misc
Posted by Patrick Haddad
Ingeteam has supplied its solar inverters for two Mercury Renew projects in Brazil, totalling 210 MWp.
Ingeteam has already completed the supply of 108 solar inverters manufactured in Brazil and 32 transformation centres or power stations also assembled in the country.
The supply includes two Mercury Renew projects, a company of the Comerc Energia Group: the 80 MWp Brígida photovoltaic plant, which has been in operation since last April, and the 130 MWp Bon Nome photovoltaic plant, which has just started operations. Both plants are part of the same solar complex located in the state of Pernambuco.
For these photovoltaics, Ingeteam has supplied 32 power stations of the INGECON SUN MSK model. Each of them integrates several solar inverters, the power transformer, the medium voltage cells, the auxiliary services panel and the auxiliary services transformer.
José Nardi, manager of the solar business unit at Ingeteam Brazil, highlighted that "these contracts, in addition to being representative projects for our subsidiary, are also great news for promoting local Brazilian industry and employment, since we are the only manufacturer of solar inverters that it manufactures locally in the country".
Source and image: Ingeteam
Comments