Certel acquires new 'smart' transformers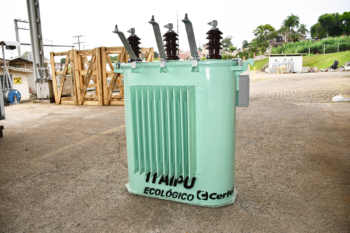 Misc
Posted by Patrick Haddad
Brazilian utility Certel has acquired new distribution transformers that allow for the full monitoring of the equipment.
The system, called "Smart Trafo", makes it possible to read in real-time several electrical quantities, including data such as operating temperature.
For the electrical system maintenance coordinator, Simão Pedro Diehl, the new acquisition enables real-time monitoring of activities, ensuring eventual requests. "With this technology, we can make decisions about the best use of the power grid and the transformer itself, instantly verifying its charging", he explains.
The new transformers also have vegetable oil inside which, in addition to being more ecologically efficient, with a total volume of biodegradable oil, replaces mineral oil. These transformers are inline to be installed soon.
"In addition, the vegetable oil in these transformers has another great advantage due to the higher flash point and combustion, in cases of heating due to momentary overloads. In other words, this equipment brings us greater safety in the operation", Diehl added.
Source and image: Certel
Comments