China's first floating wind turbine commissioned with unique dry-type transformer from Hitachi Energy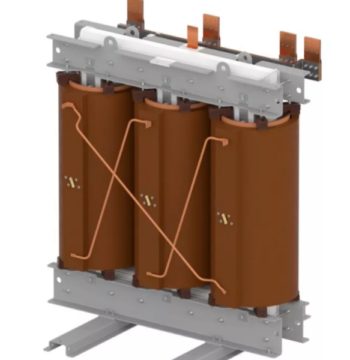 Misc
Posted by Patrick Haddad
Hitachi Energy has developed and supplied a first-of-its-kind Vacuum-Cast-Coil (VCC) dry-type transformer that is specially designed for floating, off-shore wind turbines.
This unique transformer by Hitachi Energy has been installed in China's first floating wind turbine called 'Sanxia Yinling Hao' (Three Gorges Lead). This 5.5-megawatt wind turbine has been successfully put into operation in December 2021 at Yangjiang wind farm – off the coast of south China's Guangdong Province. It was developed by China Three Gorges and Mingyang Smart Energy, a leading wind turbine manufacturer in China.
The VCC dry-type transformer designed by Hitachi Energy is a compact, moisture-proof solution that is best suited to operate even with heavy and frequent vibrations. It easily fits inside the wind turbine and can withstand the extreme environments on the floating platform which itself is designed to meet challenges like typhoons and extreme waves in the South China Sea. Moreover, due to its complete dry operation there is no risk of oil leakages, thus enhancing safety for people and the surrounding environment.
"This floating wind turbine is a key breakthrough in offshore wind power industry, effectively supporting the development of offshore wind resources," said JianHua Zhang, Head of Transformer business for Greater China at Hitachi Energy.
"Hitachi Energy has specially designed a series of transformer products for floating offshore substations and wind turbines. We are glad to join hands with Mingyang in supporting China's first floating platform and contribute to China's clean energy transition with our pioneering technology."
This floating offshore wind turbine adopts semi-submersible foundation and can withstand typhoon up to level 17. It is capable of generating up to 40 million kWh of electricity per year at its full capacity. This is equivalent to providing green and clean electricity for up to 11,000 households in China.
source and image: Hitachi Energy
Comments