National Grid energises new substation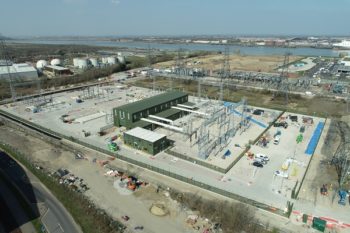 Substations
Posted by Patrick Haddad
National Grid has successfully energised the new Littlebrook substation in Dartford.
It will enable 2 GW of low carbon and renewable energy, enough to power around 1.5 million homes, to be transmitted through the substation from cross channel interconnectors and wind farms off the Kent coast.

National Grid and its contractors Balfour Beatty and GE's Grid Solutions have been working since June 2019 to build a replacement substation for Littlebrook 400 kV substation. The Dartford facility was constructed fifty years ago and was becoming difficult to maintain due to its reliance on a potent greenhouse gas sulphur hexafluoride (SF₆), a gas commonly used in the electrical industry to prevent short circuits and to keep the network safe and reliable.

The construction of a new substation has meant engineers are able to use GE's Grid Solutions' g³ innovation, meaning the newly installed gas-insulated busbar equipment is SF₆-free. A total of 5.6 tonnes of SF₆gas has been saved, forming part of National Grid's ambition to reduce its SF₆ emissions by 50% by 2030 and removing all SF₆ gas from electrical assets by 2050.

The project included the installation of cabling, overhead line connections and switchgear – the circuit board used to control, protect, and isolate electrical equipment. Four existing super grid transformers will be moved from the old substation to the new one, with one new transformer being delivered in July 2022.
The project used other net zero construction innovations to reduce the environmental impact of the works, including steel manufactured in Britain, solar powered electrics, electric vehicle charging points, biodiversity net gain plan for the local area and an onsite biodigester to manage wastewater.
Richard Morris, Project Manager for National Grid Electricity Transmission said: "National Grid invests around £1 billion each year into the electricity transmission system, delivering the fastest decarbonising electricity network in the world with world-class reliability. We are delighted the new Littlebrook substation is now energised and connected to our network, securing electricity supplies for decades to come, and enabling 2 GW of low carbon power to flow, enough to power 1.5 million homes. The next stage is completing circuit diversions, then SF₆ gas from the old substation can be removed safely in stages and the former substation decommissioned and demolished by the end of 2024.
Source and image: National Grid
Comments