New transformer units set to arrive in Shetland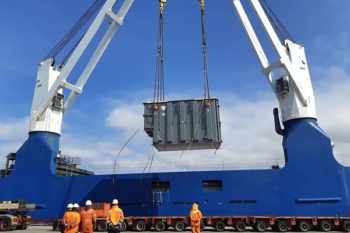 Substations
Posted by Patrick Haddad
Scottish and Southern Electricity Networks (SSEN) has completed preparations for the delivery of two of the four new transformers destined for the Shetland HVDC link.
The project to connect Shetland to the GB transmission network has stepped up a gear as the Shetland HVDC link team prepares for the arrival of four new transformer units, with the first two transformers scheduled for delivery at their new locations starting later this week.
The four transformer units – weighing around 168 tonnes each – are key components in the operation of Kergord substation and will play a vital role in the Shetland HVDC link. Once complete, the link will enable the connection of renewable electricity generation and help Shetland's future security of supply.
The first two transformers arrived in Lerwick Harbour from Sweden via specialist vessel MV Eemslift Ellen. The transformers have been loaded onto a multi-axle vehicle with specialist haulier, Allelys, ready to transport the units from Lerwick to their final destination at Kergord.
The second delivery of the remaining two transformers is expected to arrive in June.
Transformers for SSE Renewables' Viking Energy Wind Farm project are also expected to arrive early next month, with a similar arrangement expected to be in place to transport the transformers to the wind farm site. A second transformer delivery for Viking Energy Wind Farm is also planned for early August.
SSEN Transmission Assistant Project Manager Jared Deeney said: "The delivery of the four new transformers from Hitachi Energy is a key milestone in the construction of the Shetland HVDC link.
"The complex delivery has been carefully coordinated by our project teams, working with our specialist haulier, Allelys, Petersons Shetland, Shetland Islands Council and Police Scotland, to ensure disruption can be kept to a minimum for the local community and road users on Shetland.
Source and image: SSEN
Comments