SSEN receives four new transformers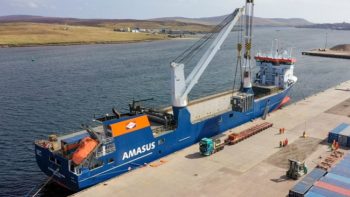 Companies
Posted by Patrick Haddad
The project to connect the Shetland Islands to the GB electricity grid stepped up with the arrival of four new 168-tonne transformer units.
The units are key components in the operation of Kergord substation and will play a vital role in the £600m Shetland HVDC link. Once complete, the link will transport clean, green energy from the islands and help Shetland's future security of supply.
The units, which will be transported from Lerwick harbour by a specialist haulier, will be moved overnight, under the guidance and supervision of Police Scotland, to avoid disruption to the local community.
Jared Deeney, SSEN Transmission Assistant Project Manager, said: "The delivery of the four new transformers from Hitachi Energy is a key milestone in the construction of the Shetland HVDC link.
"The complex delivery has been carefully coordinated by our project teams, working with our specialist haulier, Allelys, Petersons Shetland, Shetland Islands Council and Police Scotland, to ensure disruption can be kept to a minimum for the local community and road users on Shetland.
"We would like to take this opportunity to thank the local community in advance for their patience and understanding while we transport these transformers onto their final destination in Kergord."
Both projects are part of SSE's Net Zero Acceleration Plan, which will see the business invest around £7m a day and support 1000 jobs a year, in the critical low-carbon infrastructure needed in net zero transition.
SSE invited people to sign the turbine and have their name on the world's largest offshore wind farm during COP26. Almost 10,000 people have so far got involved, with UK Prime Minister and COP26 President Alok Sharma among the first to sign up.
Source and image: SSEN
Comments