Substation topside and jacket for the Saint-Brieuc offshore wind farm successfully loaded out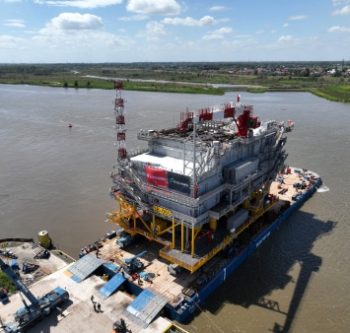 Substations
Posted by Patrick Haddad
Both the substation topside and jacket for the Saint-Brieuc offshore wind farm have been successfully loaded out.
The offshore substation has been constructed by Smulders and its consortium partner Equans.
The load out of the 3,400-ton topside took place at the assembly yard of Equans in Hoboken. The jacket foundation of about 1,600 tons was safely loaded onto a pontoon from the yard of subcontractor Heerema Fabrication Group in Vlissingen.
Following the successful load outs, the topside and jacket are as good as ready for transport to their final location. The sail away is planned for later this month, after which the installation will be take place 16.3 km off the coast of France.
The Saint-Brieuc offshore wind farm is the first large scale offshore wind farm in Brittany and one of the first in France to obtain all the necessary government permits for its construction and operation. The wind farm covers a total area of 75 km², will have a total capacity of 496 MW and will produce 1,820 GWh annually, equivalent to the annual electricity consumption of 835,000 inhabitants.
Source and image: Smulders
Comments