EthosEnergy installs Hitachi tap changers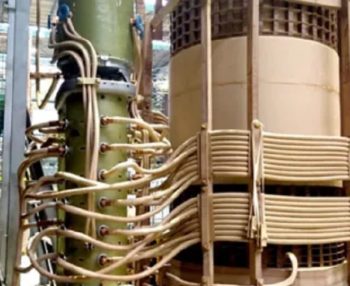 Tech
Posted by Patrick Haddad
Transformer manufacturer EthosEnergy has installed Hitachi Energy's compact three-phase star point tap-changers, part of the T-Sync platform for the first time enabling reduced dimensions for its transformer.
EthosEnergy core competencies focus on professional and comprehensive service solutions related to generators, transformers, turbine mechanical components, and steel elements for power generation. The Lubliniec facility is located in the northern part of the Silesia Region, Poland. Ethos is producing transformers up to 500MVA and 400kV.
EthosEnergy has now installed Hitachi Energy's T-Sync on-load tap-changers and bushings in a new transformer for one of the biggest Polish energy producers.
EthosEnergy's biggest challenge was to design a 295MVA transformer with the same footprint as the existing 270MVA transformer. The three-phase star point on-load tap-changer design enabled EthosEnergy to reduce the transformer footprint by six square meters.
"Hitachi Energy is our trusted business partner. For this project, we decided to order Hitachi Energy's on-load tap-changer due to its high technical quality and short delivery timeline. The ordered component was made with great attention to high quality in a professional way according to required quality standards and norms," said Rafał Maniara, Technical and Business Development Director from EthosEnergy.
Source and image: Hitachi Energy
Comments