Second set of transformer units arrive in Shetland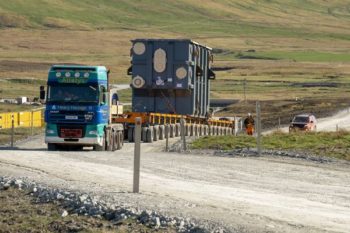 Misc
Posted by Patrick Haddad
The final two transformer units for the Shetland HVDC link have arrived in Lerwick Harbour this week, with the SSEN Transmission team preparing for them to be transported to their final location at Kergord.
Following on from the successful arrival of the first two transformers to the island in May, the final two transformers arrived from Sweden via specialist vessel MK Eelmslift Ellen on Tuesday.
The transformer deliveries from Lerwick to Kergord will take place overnight to avoid impacting road users as much as possible. The first delivery is scheduled to take place on Wednesday 15 June, with the second delivery taking place on Friday 17 June.
The deliveries will follow the same format of the first set of deliveries in May, with the vehicles being transported in a convoy under the guidance and supervision of Police Scotland.
Due to their size, the delivery vehicles will be travelling at a reduced speed for safety, and it is expected the journey will take between three and five hours. No road closures are required to facilitate the movement of the transformers, and vehicles should be able to pass the convoy at regular opportunities on the road network under guidance from Police Scotland, when safe to do so.
Source and image: SSEN
Comments