Volkswagen Zwickau Germany: Ramp-up visible despite supply chain disruptions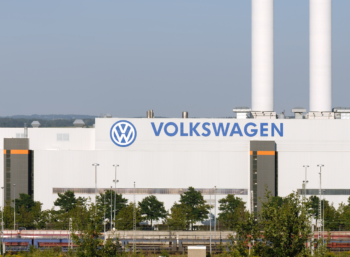 Companies
Posted by Staff
Surprisingly, real-time geolocation data shows an unexpected ramp-up of activity level at the end of May 2022 and even more starting from the mid of June.
Supply chain disruptions have forced the major German car makers Volkswagen (VW) to cut shifts in the Zwickau plant earlier this year with unknown green-light.
German industrial intelligence provider Fygen.com has observed an increase of 200% starting from the end of May, where the activity level has already stayed low in the past 2 months. More recently, a further increase of activity level has been seen at the beginning of this week.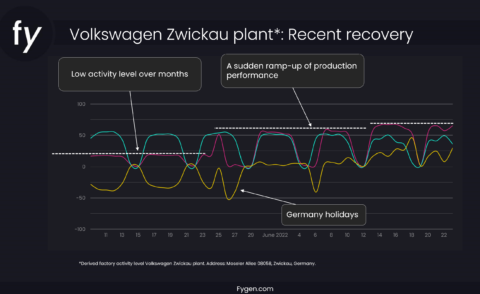 Volkswagen failed to secure electrical wires supply from Ukraine in February this year, where it had to idle two of the German plants located in Zwickau and Dresden with unknown green light. Daily production has reduced to only 900 cars.
Interestingly, Fygen observed an increase of activity level, indicating a ramp-up of factory performance and shift changes, as confirmed with a recent local report. This also means that the daily production may resume to 1300 cars.
The plant in western Saxony is Volkswagen's largest location for electric vehicles in Europe. The ID.3, ID.4, ID.5, and more models roll off the assembly line in Zwickau. Daily production with three shifts is around 1,300 vehicles.
To closely track its real-time development, German industrial intelligence data provider Fygen.com offers an exclusive and comprehensive monitoring service on the ongoing chip shortage crisis.
Fygen.com declares that, despite aiming to deliver the most accurate and reliable data, it cannot be excluded that observations in the data might be caused or influenced by other external factors, and hence any inaccuracy.
Fygen.com is the world's leading data provider for factory observation. It helps its clients monitor the utilization rates and activity levels of potentially more than 3 million industrial sites globally.
All data can be aggregated in order to gain a big picture. No matter if it is about a ticker symbol, a sector or any other kind of data buckets.
Key questions to answer:
How is a factory/company/sector performing in terms of output?
How has productivity developed over time?
Are there abnormalities in factory activity?
By using the platform, clients can:
Be the first to know about any trend in factory data
Predict upcoming developments
Make comparisons to any kind of peer groups
Production data is of top 5 economic indicators, but there was no real-time data available until recently. Fygen is set to provide an advanced alternative to Purchasing Managers Index (PMI) data. 
Photo: Wikipedia
Comments