TWBB develops new 110kW transformer using ester oil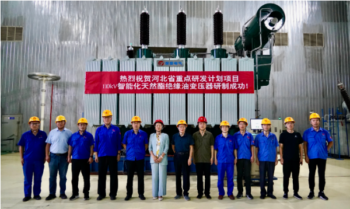 Tech
Posted by Patrick Haddad
Baoding Tianwei has developed a 110kW transformer using natural ester insulating oil.
The first new Class 1 energy-efficient intelligent 110kV natural ester insulated oil power transformer developed by Paul Y. Electric has passed all the type tests in one go under the witness of the National Transformer Quality Supervision and Inspection Centre, with excellent performance indicators and meeting expectations.
Advanced localised electrical steel with magnetic materials and new technologies such as loss and noise reduction have been adopted to improve the efficiency of the transformer and fully meet the new standard GB 20052-2020 "Energy Efficiency Limiting Values and Energy Efficiency Grades of Power Transformers" for Grade 1 energy efficiency. The performance indicators such as noise, winding hot spot temperature, and partial discharge are better than the standard requirements.
Green environmental protection and high safety performance have been prioritised in this new transformer. Firstly, the transformer uses natural ester insulating oil, which has an ignition point higher than 300℃ and a natural degradation rate of 98% or more.
The transformer is equipped with a new generation of intelligent sensors, which transfer data such as hot spot temperature in the body, local discharge signal, vibration signal and dissolved gas in the oil to the newly developed intelligent component cabinet system in real-time. The system can effectively integrate a variety of monitoring data, extract the characteristics of various monitoring parameters to diagnose transformer defects, and has a cloud-based platform for remote cloud analysis and cloud diagnosis of transformer multi-state parameters to achieve intelligent control of transformer operating conditions.
Source and image: TWBB
Comments