DTEK opens wind farm in Ukraine amid war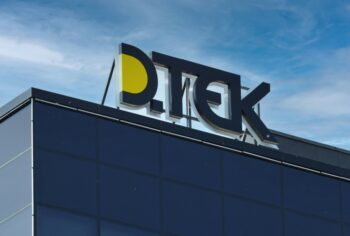 Companies
Posted by Staff
The world's only wind farm being built in a major conflict zone has been officially opened today by DTEK, Ukraine's largest private energy company.
Phase I of the Tyligulska Wind Power Plant (WPP), which lies just 60 miles (100 km) from the frontline in the Southern region of Mykolaiv, is already generating green power. The plant's 19 turbines have an installed capacity of 114 MW, generating up to 390,000 kWh, enough to power 200,000 households a year.
The decision to build Tyligulska WPP was taken in 2020 as part of DTEK's strategy to expand its renewables portfolio. The project will eventually boost DTEK's green energy capacity from 1 GW to 1.5 GW.
DTEK has invested $200 million in the construction of this first phase. The project is one of the first to deploy 6 MW Enventus turbines from Danish manufacturer Vestas.
Phase II plans envisage adding up to 64 turbines to raise the potential output to 500 MW. That will make Tyligulska the largest WPP in Eastern Europe, providing secure energy for homes and businesses in the south of Ukraine.
DTEK's plans to expand Tyligulska as part of the company's broader strategy to achieve net zero emissions by 2040 and help Ukraine become a clean energy exporter to the European Union. Those plans remain dependent on DTEK securing an additional $450 million in funding, both from foreign investors and crucially from state-backed international financial institutions.
Source, Photo: DETK
Comments